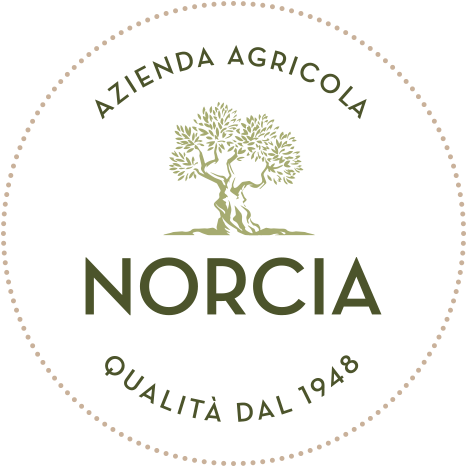 The Norcia Farm (Azienda Agricola Norcia)
The Norcia Farm has been producing Extra Virgin Olive Oil for three generations since 1948.
Located in the Tuscia Viterbese, an area that is particularly well-suited  to the cultivation of Olives and Hazelnuts, the Farm has set down its  roots in a soil, rich in carbonates but also well- endowed with organic substance. This and the olive-growing, consisting mainly of the "caninese" cultivar, together with the particular microclimatic conditions are factors that have a decisive influence on the final result of the products.
Since 1994, the farm has been following the regional eco-compatible agriculture programs. With  early harvesting, crushing  and cold pressing the olives within 24 hours, before  passing  the resulting oil through a centrifugal separator,  it is able to give the product the typical fruity taste  of the oil in this area.
…the prodigy, the perfect capsule of the olive tree
which fills the foliage with its constellations:
later the vessels, the miracle,
oil.
2006 - Guida agli extravergini 2006 (Slow Food Editore)
Extra Virgin olive oil Sasso San Pellegrino 
Olio Extravergine di oliva Casale Lupi
2006 & 2007 - Rivista i grandi vini (Speciale i grandi oli)
Extra Virgin olive oil Casale Lupi
2008 - L'olio (Guida Bibenda)
Extra Virgin olive oil Casale Lupi
2016 - Guida Slow Food
Extra Virgin olive oil Casale Lupi
Olio Extravergine di oliva Sasso San Pellegrino
2016 - Oli d'Italia (Gambero Rosso)
Extra Virgin olive oil Casale Lupi
2019 - Oli d'Italia (Gambero Rosso)
Extra Virgin olive oil Casale Lupi (Top award)